Benefits of stainless steel for eco-friendly bathrooms
RADOMONTE & STAINLESS STEEL
Radomonte is an Italian brand that exclusively uses stainless steel in the manufacturing of all its bathroom products, from faucets and shower heads right down to soap dispensers and toilet brushes.
Stainless steel is a resistant, durable material by nature; the elements in its alloy create an invisible layer of protection, resisting corrosion over time. Radomonte uses AISI 316L (low carbon content) or marine-grade stainless steel, which is the most resistant alloy currently available on the market.
There are many benefits to incorporating Radomonte's products of stainless steel tapware—how it's manufactured, its durability, sustainability, hygienics—that play an important role in creating a sustainable bathroom experience.
MANUFACTURING
Each Radomonte product is hand-assembled by a specialized operator and tested one-by-one to ensure the quality is always the highest possible. Throughout each step (assembly, test, cleaning, packing), Radomonte operators are trained to point out any possible defect—even the smallest of scratches—so that our clients can be rest assured they are receiving a flawless product.
PVD (Physical Vapor Deposition) finishes are the latest and most innovative of finishes. This allows application of color to the faucets without hiding the natural brushing and characteristics of the steel itself. The manufacturing process for PVD takes place in a vacuum chamber, by evaporating the metals that will make up the finishing layer. The finish is transported through a vapor or plasma, charged with a low pressure ionising gas, and coated onto the product.
PVD treatment is environmentally friendly as it involves no chemical disposal, polluting emissions, or water discharge to decontaminate.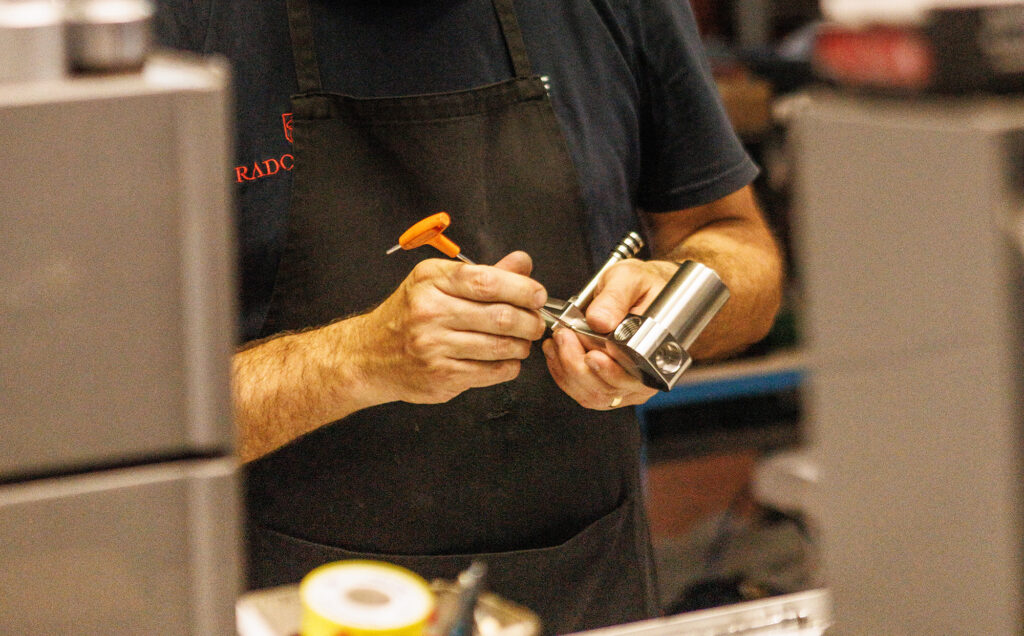 DURABILITY
Durability is a concept that is becoming increasingly important because longevity means less waste. Stainless steel is a durable material due to its extreme surface resistance that protects it from rust and external agents.
Radomonte products are made to order, allowing for preparation of mixers when they will be needed, avoiding long shelf life that could lead to hardening of seals and O-rings, or the hardening of the cartridge. Producing to order also gives us the chance to personalize the products, like engraving a hotel logo on top of the handle.
HEALTH & SUSTAINABILITY
Steel is an environmentally-friendly material and can be used "as-is" to produce taps. Unlike chrome-plated brass, stainless steel is 100% recyclable and can be recycled an infinite number of times.
It does not produce substances harmful to humans or the environment, and it requires lower processing temperatures than other metals. Steel is the most hygienic material as it does not allow bacteria and germs to develop on it.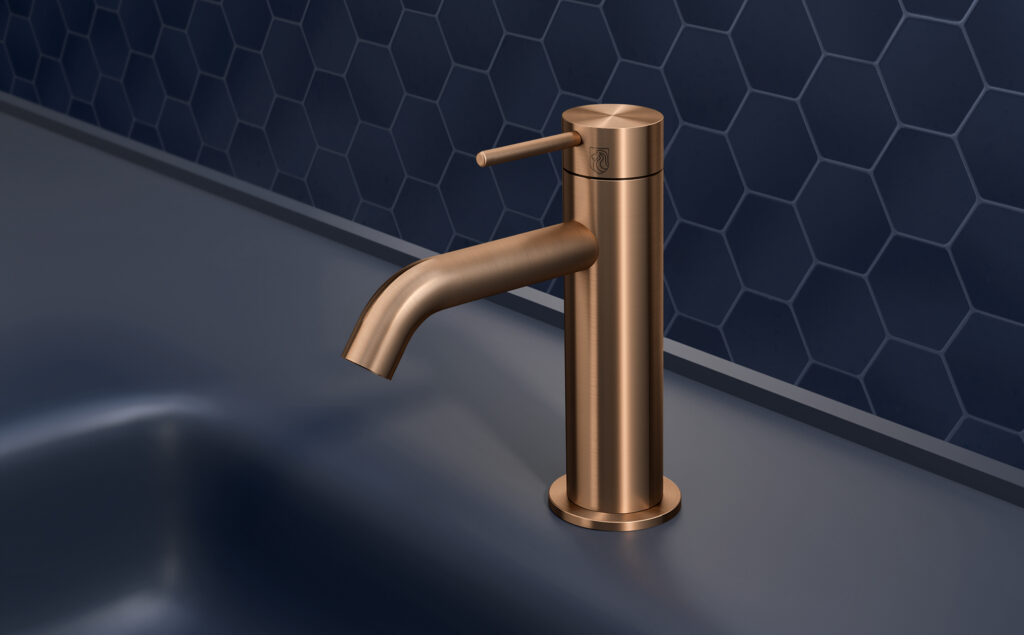 CLEANING & MAINTENANCE
Now that we have established stainless steel is a highly hygienic and durable material, it is essential to take certain precautions when cleaning and maintaining your stainless steel tapware so that it retains its characteristics and surface brilliance.
What not to do: Avoid using abrasive cloths or sponges, aggressive detergents, and corrosive substances containing chlorine, muriatic acid, or descaling agents.
What you should do: Use a neutral detergent and a soft cloth for cleaning. Especially in the case of spray cleaners, soak the cloth with the cleaner and do not spray it directly onto the faucet. Rinse the faucet thoroughly after cleaning and dry it with a dry cloth or greaseproof kitchen paper, which will bring out its shine. There are many eco-friendly cleaners on the market, such as ECOS or Blueland.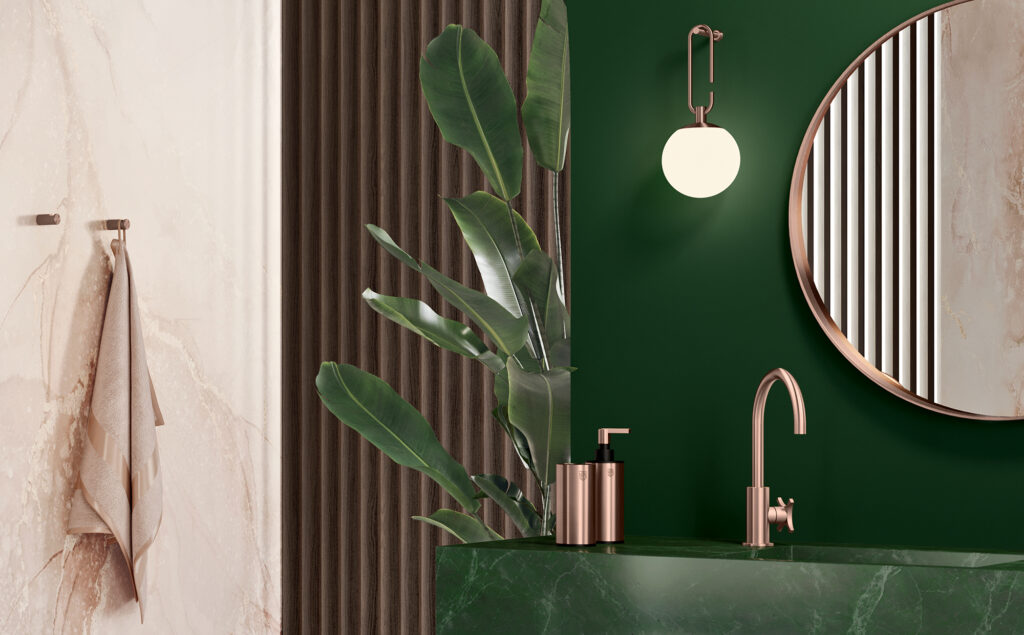 "Perhaps the most important of the four top trends at ISH 2023 in the bathroom experience world is the Sustainable Bathroom. Sustainability in the bathroom is presented as a future concept that optimally combines smart, water-and-energy-saving products, environmentally friendly industrial production, sustainable materials and a durable design, while conveying a feeling of closeness to nature."

Pop up my Bathroom, ISH Frankfurt, 2023
A LASTING DIFFERENCE
With a sleek and modern design providing superior quality and longevity, Radomonte's high-performing tapware can play an integral part in creating an eco-friendly bathroom that is both stylish and environmentally-friendly.
Check out our two exclusive faucets, the Toki and Toox collections, as well as wellness fixtures and accessories here. By making sustainable choices now, we create a healthier and more eco-friendly future.
Interested in more sustainable options? Check out our environmentally friendly bathroom furniture and our sustainability guide.